Henion Dicing: Now More Than Ever Your Total Resource <![if !vml]> <![endif]>
Henion Dicing Products, LLC has acquired the Bolton Dicer product line and will continue to service and support all dicing customers from their headquarters and manufacturing facility, in Kennesaw, GA.
This purchase gives Henion the capability to manufacture and rebuild the Bolton 18" dicer model to original factory specifications. Henion has and will continue to rebuild Bolton 9" machines. Since most of the Bolton 18" dicers already use Henion cutters and bed knives, this transaction will give dicing customers a single source for their dicing needs.
Bolton has been a leader in dicing machine sales for several decades and has used Henion precision style cutters and bed knives in many of their machines. Henion Dicing Products, LLC remains committed to the continued support of old and new Henion customers as well as current Bolton Dicer customers. Many companies already own and use both brands of dicers in their manufacturing facilities and they now have a one-stop shop for ALL of their dicing needs.
Henion Perspective: In 1961 Clem Henion designed the original and still unique one-piece helical cutterhead and subsequently refined the dicer. This advance improved sizing efficiency, productivity and reduced operating noise. At that time PVC, ABS and Nylon were the big customers for this new approach to size reduction. While the dicer is still used by many of these processors, new applications and compounds saw and still see the dicer as the most efficient way to process their products.
As in most industries, TIME is MONEY. The Henion cutter and bed knife set up is the fastest and most accurate in the size-reduction industry and ensures close tolerances and consistent accuracy that competing machinery cannot match.
The HENION dicer is not only excellent for dicing compounds and heavily loaded concentrates, but is gaining a reputation for reclaim of processing scrap. Edge trim, rejected sheets can be re-diced, reclaiming the scrap into pellets that have the same characteristics as the original compound. The ability to reprocess is extremely valuable when the compound cannot be subjected to additional heat.
In addition to building new dicers, we work with customers to provide spare parts, and can rebuild older dicers, both HENION'S and Bolton style, to like new condition including a warranty.
Our cutterhead manufacturing and services group provides customers worldwide with precision ground helical cutters and matching bed-knives. The cutterhead is a high tolerance, precise cutting tool. Our sharpening and repair extend the cutting-life of both the cutterhead and bed-knife.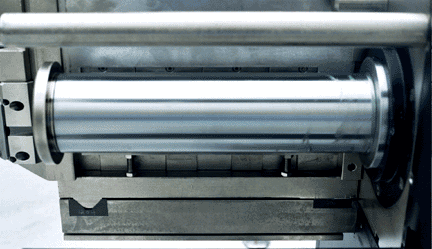 As the only company who has been servicing the plastics and rubber industries continuously since 1961, customers continue to count on the HENION name for all their dicing needs. Today's HENION dicers are the result of years of experience with technical support and field sales engineering second to none.
Henion Dicing Products, LLC